Experience the beauty of the Adelaide Hills in the peak of autumn
Pick a Pink Lady Weekend – Adelaide Hills
Saturday 4th May – Sunday 5th May 2019
Pick a Pink Lady Weekend is back this autumn on Saturday 4th and Sunday 5th May 2019, from 10 am to 4 pm both days.
Featuring the opportunity to experience the beauty of the Adelaide Hills in the peak of autumn, enjoy fresh Pink Lady apples picked straight from the tree, learn about apple production straight from the grower, and sample apple produce.
This year we have 4 different choices of orchards to visit across the Lenswood and Oakbank/Woodside region.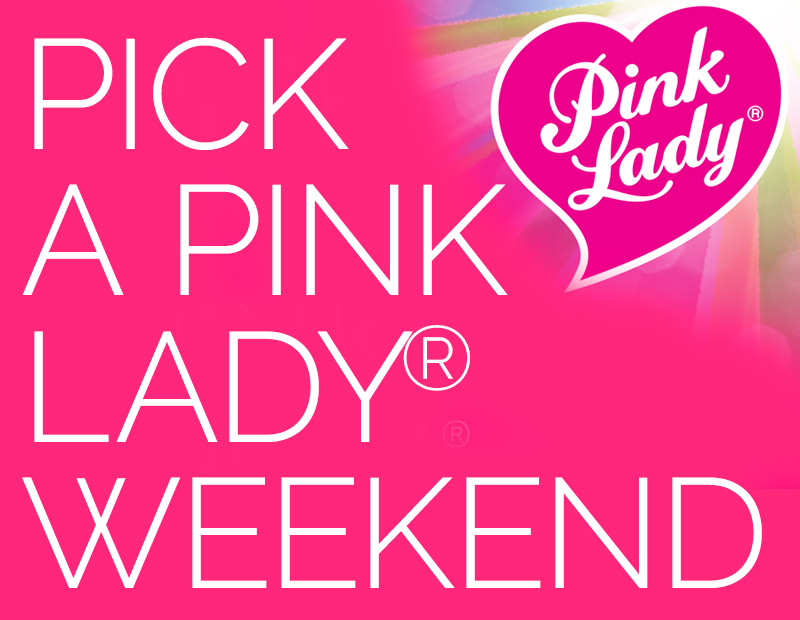 Peter & Joel Brockhoff
471 Swamp Road, Lenswood
Peter & Joel Brockhoff, Bundaleer – At this orchard nestled between Lenswood and Balhannah, your hosts Joel and Peter and their families are well known at the Adelaide Showground Farmers Market and also from the Applefields Orchard Shop. The picking area is a short walk from the shed, where you will also be able to enjoy mulled juice, cool juice, good coffee and a range of baked Pink Lady apple products, including pies and turnovers and jams.
Other apple varieties are also available for sale.
Follow Applefields Orchard Shop on:
Ceravolo Orchards
151 Mappinga Road, Oakbank (between Oakbank and Woodside) 
Ceravolo Orchards – Your hosts Ceravolo Orchards have selected their orchard situated between Oakbank and Woodside as the ideal venue to allow for ready access, with only very gently sloping ground. As the founders of Ashton Valley Freshjuices, as well as apple picking there will be a selection of juices available along with pizza, pasta, warm apple pie, toffee apples and coffee. 
It's also only a short drive down the road from the orchard to their Lot 100 – Adelaide Hills venue.
Follow Ashton Valley Fresh on:
Mahnew Orchard
640 Swamp Road, Lenswood 
Mahnew Orchard – Your hosts Bron and Justin Wenham and family are situated in the heart of Lenswood and have been a part of Pick a Pink Lady Weekend for the past 6 years. With ample parking close to the picking area, there will be items of interest for all ages on display. 
They will have a selection of delicious cakes as well as sizzling sausages with apple sauce, complemented by steaming hot barista-made coffee and locally made fruit juices.
Follow Mahnew Orchard on:
Stafford Orchards
26 Coldstore Road, Lenswood 
Stafford Orchards – Your hosts the Stafford family are situated just up from the Lenswood Coldstores Co-operative, where they supply their apples, with views from the orchard across the Coldstores and local township.
This dog-friendly orchard is also home to LOBO Cider, which will be available to taste and purchase, along with apple donuts, baked goods and juices.
Follow Stafford Orchards on:
Extra information
$5 per head entry at each orchard. Children under 12 FREE. Apples for purchase at prices set by the grower.
Toilets available and shelter, with disabled access to the main parking and shed areas only. Please note that this is an outdoors activity and orchard areas are hilly and uneven. Bring warm clothes, solid shoes, and a raincoat if damp to ensure that you make the most of the experience. Picking is dependent on availability of fruit, although growers will do their best to keep plenty of fruit availability for picking.
The quality of fruit and products remain solely the responsibility of each individual grower. The topography of each orchard will vary and may include steep slopes, uneven surfaces and other hidden dangers including rocks. All visitors are advised to exercise due care and take responsibility for their own safety when they visit an orchard.